Company Introduction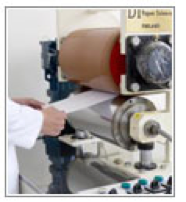 TFM, one of the largest OBA manufacturers in the world, has endeavored to utilize modern technologies and facilities into the business to achieve the goal of a successful transformation on traditional chemical manufacturing for more than 30 years.
With the effort of all departments, TFM has certified by UKAS and RvA ISO9002 in 1996 and SGS ISO9001 since 2000 for its outstanding quality management. Furthermore, TFM strives to improve the synthesis and purification process through R&D inputs. All these efforts lead to a more efficient production line along with nearly no industrial waste.
With the increasing market demand, the annual capacity of TFM has reached to 96,000 tons per annum, and this is only to fulfill the need for the market at this point. For future market demand, other three production lines are ready-to-expand at any time, so does our industrial vertical integration.
TFM has the confidence to stay in the position as a leading OBA manufacturer in the world for we have the strictest quality control over every necessary aspect. It was and will be TFM¡¦s ambition to provide our clients with the best solution of whiteness and brightness.